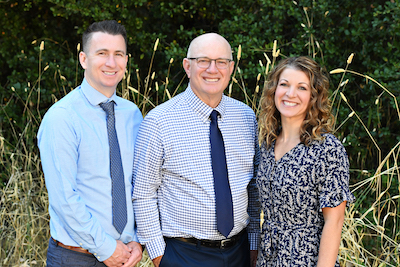 Family owned and operated since 1979, we are proud to have served the Roseville, Granite Bay, Rocklin, Citrus Heights, Orangevale, and Fair Oaks communities for more than 40 years!
Dr. Sidney D. Kelly, DMD founder and owner established his dental practice with the family in mind. He has joyfully served and provided care for the young and elderly for 40 plus years! Dr. Sidney Kelly says, "One of the most rewarding experiences in my career has been establishing relationships with my patients and seeing their families grow while providing oral health care. It is so fun to now see 3rd and 4th generations of family members continuing to come to our office!"
I founded the practice with a set of core values that I felt focused on the simple golden rule we all grow up hearing: "Treat others as you want to be treated." This to me was more than just a saying. It was the heart of how I would operate my practice. I wanted a place people felt they were treated with kindness and a place they had trust in. I love the art of dentistry of creating smiles, restoring teeth, and helping people achieve a healthy and functional smile; but the most rewarding part of owning my business is truly caring for and treating others as if they are my very own family members. At Kelly Family and Cosmetic Dentistry we make it personal!
It is exciting to be able to pass on the family owned business to my son, Dr. Jacob D. Kelly, DDS and my daughter, Kristin Rose, RDH who each share the same traditional family values the business was founded upon. It has been fun collaborating on all things Dentistry and seeing their passion of helping others.